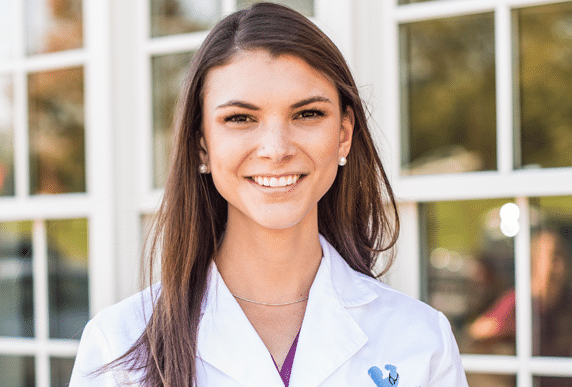 I grew up in Southern Maryland on the Chesapeake Bay, where I had many dogs and spent a lot of time riding horses. I've always been passionate about animals and considered them to be part of my family. That's probably why I've wanted to be a vet since I was three!
I attended the University of Maryland and graduated with a degree in Animal Science, then graduated from the Virginia-Maryland College of Veterinary Medicine and moved to the NC with my husband, who is also a veterinarian. It's here that I found this wonderful group of people and beautiful hospital!
I enjoy making pet parents feel comfortable bringing their babies through our doors. I'm always willing to talk about any concerns and help support my clients through difficult decisions.

PATIENT CARE
I take time to learn the individual personalities and quirks of all my patients, which in turn allows me to create a unique treatment plan that best fits their needs. When a patient can go home healthy and safe, and their owners are grateful, that's when I feel best at my job.

HEALTH & WELL-BEING
I'm very passionate about geriatric care. I believe all our pets deserve a long, healthy life as a reward for being our faithful companions! Older pets have the sweetest stories and I love to help them feel comfortable in their later years.

HOBBIES
After work, you'll find me spending time and traveling with my husband, riding my horse (Morgan gelding), playing with my 4 dogs (2 Great Danes, a Pitbull, and a Maltese), or running (exercise is everything!).